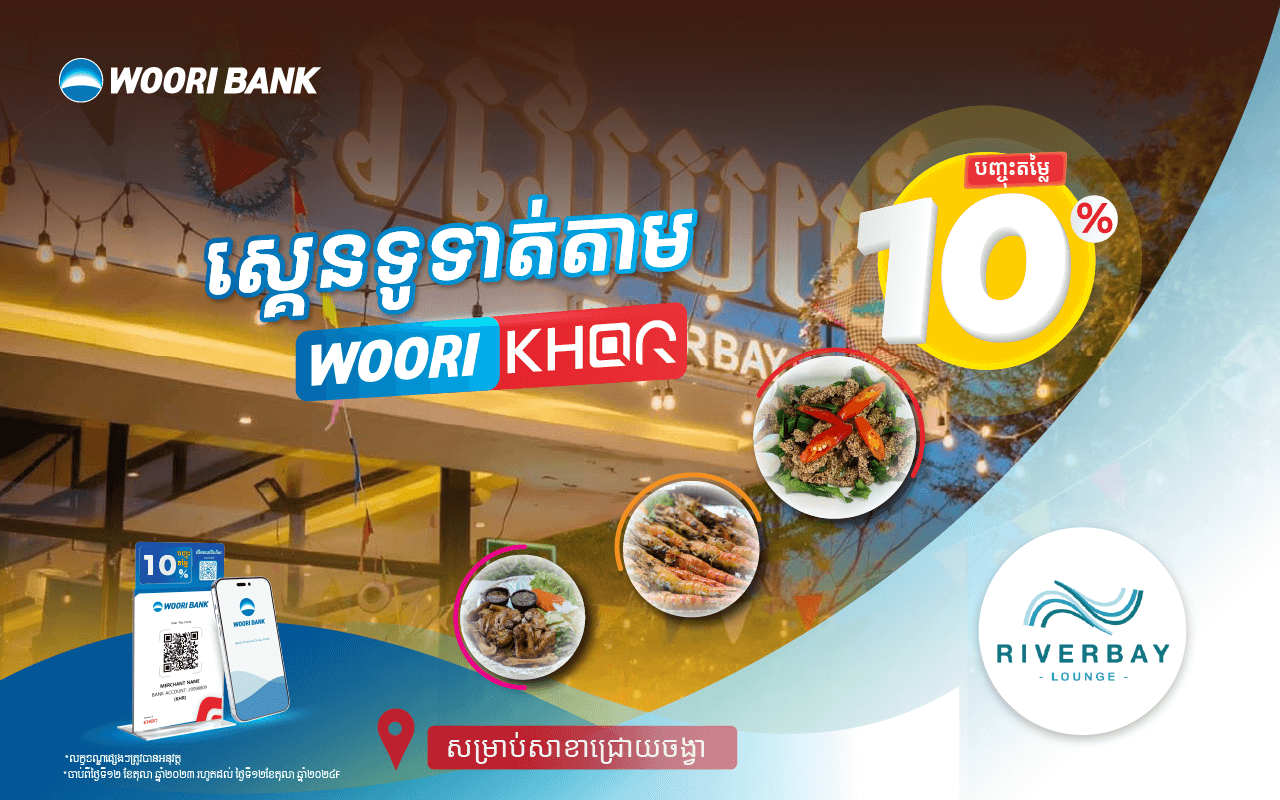 បញ្ចុះតំលៃ ១០% នូវរាល់ការកម្ម៉ង់ ម្ហូប ឬ ភេសជ្ជៈផ្សេងៗ ដោយគ្រាន់តែស្គេនទូទាត់តាម Woori KHQR ដោយប្រើប្រាស់ Woori Bank Mobile App នៅរីវើបេយ៍ជ្រោយចង្វា (River Bay CCV Lounge)
រីវើបេយ៍ជ្រោយចង្វាក៏មានអាហារពេលថ្ងៃ ច្រើនជម្រើសសម្រាប់អតិថិជន​ ជាមូយនឹង តម្លៃសមរម្យនិងសេវា​កម្មរហ័​ស
របៀបបើកគណនីរហ័ស៖ https://youtu.be/UW8kq6y8zKs
ការផ្តល់ជូននេះចាប់ពីថ្ងៃទី១២ ខែតុលា ឆ្នាំ២០២៣ រហូតដល់ ថ្ងៃទី១២ខែតុលា ឆ្នាំ២០២៤
Get instant discount up to 10%​​ on food and drink by just scan to pay via Woori KHQR using Woori Bank Mobile App at​ ​River Bay CCV Lounge.
River Bay CCV Lounge​ also has lunch for customer with a good price and service.
Open Quick Account Guideline៖ https://youtu.be/UW8kq6y8zKs
This offer available from 12th October 2023 until 12th October 2024.
ទីតាំង/Map: https://bit.ly/3tq3OSB
ទាញយកកម្មវិធីឥឡូវនេះ /Download Woori Bank App http://onelink.to/ka4br2
សម្រាប់ព័ត៌មានលម្អិត | For more info: 023 963 333 / 081 331 333
Website: https://www.wooribank.com.kh/merchant-discounts/
*លក្ខខណ្ឌផ្សេងៗត្រូវបានអនុវត្ត | Terms and Conditions Apply