I. Briefing
Fintech development in Cambodia has expanded remarkably in recent years, particularly in digital payments and transfers. Responding to this change, Woori Bank Cambodia is launching a survey contest to collect the new feature concepts on development a better Mobile Banking application. Participant is expected to complete the survey questionnaire and provide comprehensive ideas and feedback.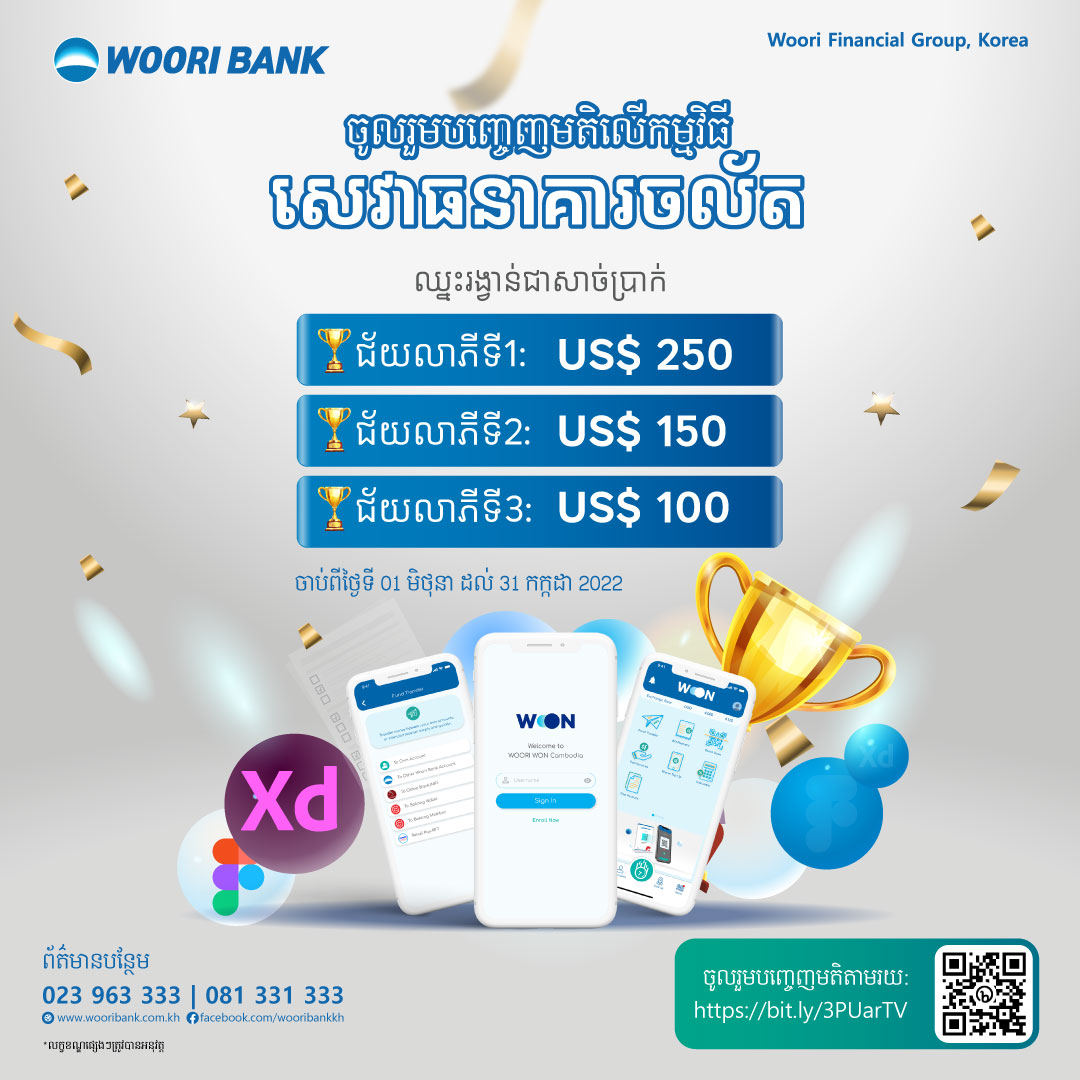 II. Who can join?
 Individuals
 Teams
Company/creative agency
 University or Vocational students
 III. Rewards & Results
          3.1 Rewards
          The best Suggestion concept will be selected by the committee from Woori Bank Cambodia and will be awarded according to the following classifications: 
First Winner: $250
Second Winner: $150
Third Winner: $100
          3.2Winner Announcement
          Woori Bank's committees will carefully review all survey entries, and score based on the answer provide. Most comprehensive answers will be awarded.
          Winners will be announced on official Facebook page and Website of Woori Bank Cambodia. The contest will start from 01 June to 31 July 2022. The result will be released no longer than two weeks after contest ends.
IV. Submission
Survey is open from 01 June 2022 to 31 July 2022
Survey shall be completed online through link: Survey Form or Scan QR code 
V. Terms and Conditions
Survey is open to anyone 18 years or older
Participants must currently use WOORI WON Mobile Banking. Customers can open account at any closest branches of Woori Bank.
Survey entries and answers will be reviewed, scored and selected by Woori Bank's committees
The survey is accept through only one link: https://bit.ly/3PUarTV 
       The contest update/more information will be posted on Woori Bank's social media and website www.facebook.com/wooribankkh | www.wooribank.com.kh