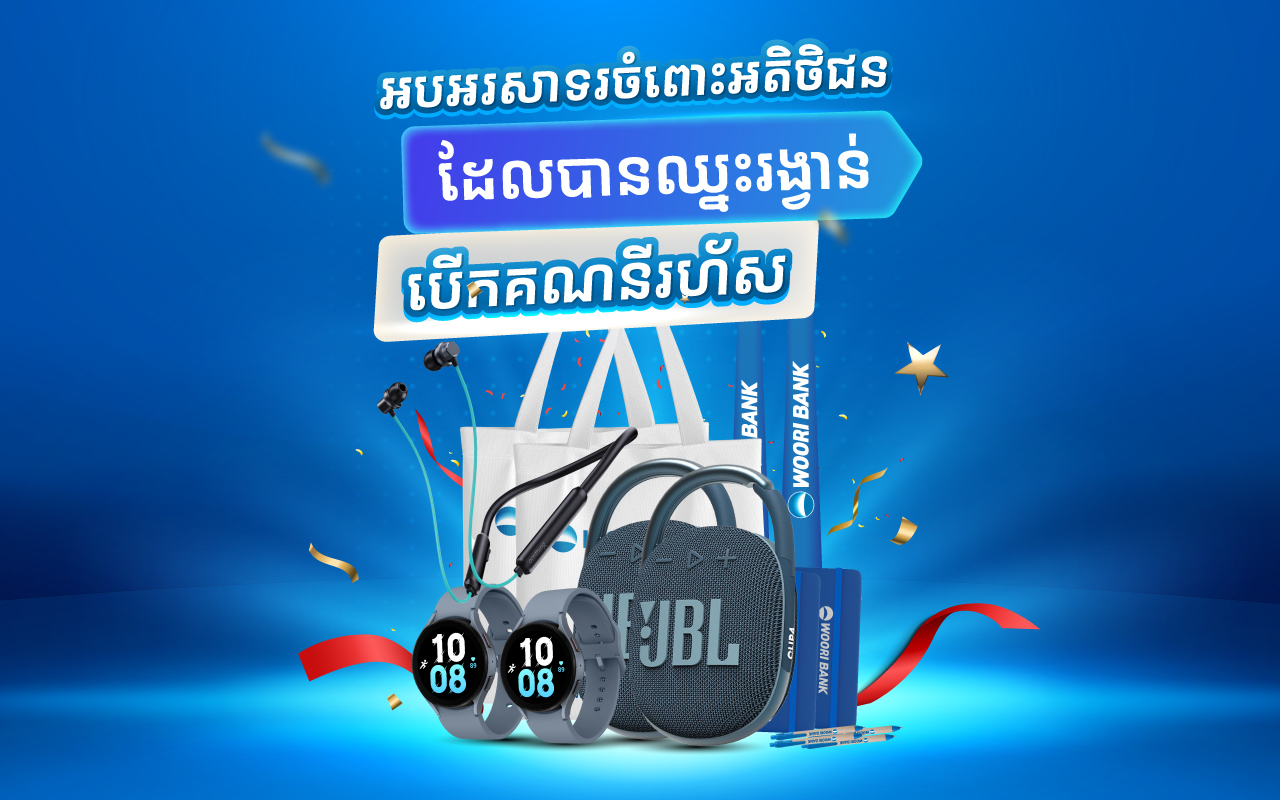 Congratulations to Winners from Opening Quick Account on Woori Bank Mobile app for 2nd Month!
Terms and Conditions
Customers must present their NID/Passport/or other authorized documents to prove their identity documents provided by customers must truly match 100% with the detailed information in Woori Bank Account.
All prize must be redeemed within 30 (thirty) days from the date of winner announcement; otherwise, it will be deemed void. In this case, Woori Bank reserves the right to dispose the prize at its sole discretion and the customer shall have no right to dispute in whatever reasons.
Prize is not subject to exchangeable or transferrable at the time of receiving.
Woori Bank reserves the right to change the prizes, term, or terminate the promotion campaign at any time without prior notice.
For more info: 023 963 333 / 081 331 333
* Terms and Conditions Apply
List of Winners
| No/ល.រ | Customer​​ Name/ ឈ្មោះ | Gender/ភេទ | Currency/គណនី | Account ID /លេខគណនី | Prizes/​រង្វាន់ |
| --- | --- | --- | --- | --- | --- |
| 1 | SOR BUNNA | FEMALE | USD | 253***** | Smart Watch |
| 2 | YUT MANY | FEMALE | USD | 254***** | JBL |
| 3 | MENG LEANGHOK | MALE | USD | 251***** | Earphone |
| 4 | THAI MENGYOU | MALE | USD | 252***** | Umbrella |
| 5 | CHHENG LIHEANG | MALE | USD | 253***** | Umbrella |
| 6 | TRY SEAKNGIM | FEMALE | USD | 254***** | Umbrella |
| 7 | REUK BUNDARA | MALE | USD | 249***** | Tote Bage Set |
| 8 | YI VANNARA | MALE | USD | 250***** | Tote Bage Set |
| 9 | SENG PARIS | MALE | KHR | 252***** | Tote Bage Set |
| 10 | THUL KHEMARA | MALE | USD | 253***** | Tote Bage Set |
| 11 | CHANG SENGNIE | FEMALE | KHR | 253***** | Tote Bage Set |