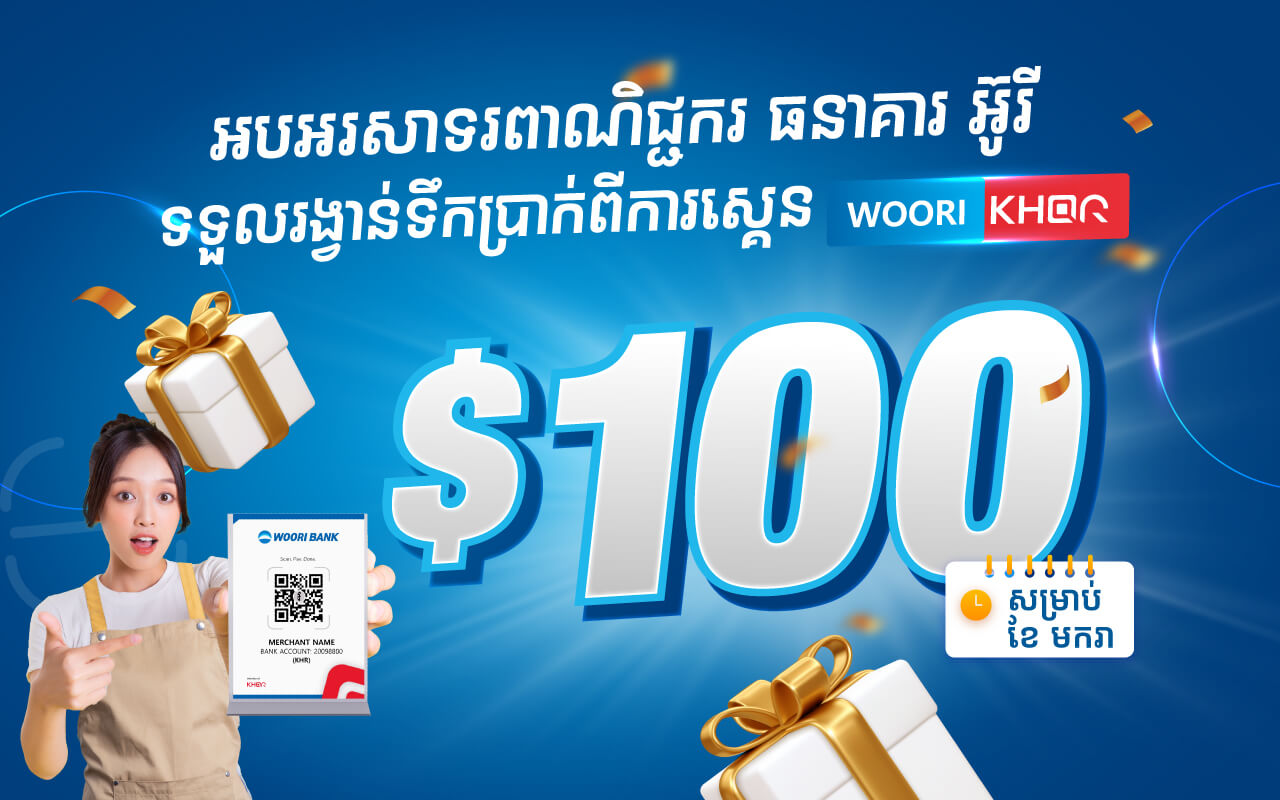 Congratulations to Woori bank Merchant who win cash prize from Woori Bank KHQR promotion for January!
Conditions for receiving cash prizes:
– Please inbox your information to official Facebook Page or visit nearest Woori Bank branch office to get more details.
– Winners of $ 100 will be required to come to your nearest Woori Bank's branch office to take a photo and post it on Woori Bank's official Facebook page.
For those who have not yet won, please continue to recommend customers to pay with Woori Bank KHQR to win prizes from our Promotion​ on next month.
Check the merchant winners in below table:
បញ្ជីឈ្នោះពាណិជ្ជករឈ្នះរង្វាន់ពីប្រូម៉ូសិន KHQR របស់ធនាគារ អ៊ូរី ប្រចាំខែមករា!
| ល.រ/No | ចំនួនប្រតិបត្តិការ/ Transactions | ឈ្នោះពាណិជ្ជករ/ MERCHANT NAME | ខេត្ត/Province | លេខសម្គាល់ពាណិជ្ជករ/MERCHANT ID | រង្វាន់/Cash Prizes |
| --- | --- | --- | --- | --- | --- |
| 1 | > 200 | LAO PENGLY SHOP | Battambang | 718**** | USD 100 |
| 2 | > 200 | SIN SOPHANO | Battambang | 721**** | USD 100 |
| 3 | > 200 | BUN SOLYNA | Battambang | 713**** | USD 100 |
| 4 | > 200 | LIM SENG | Kandal | 721**** | USD 100 |
| 5 | > 200 | NGUON SOKPHUONG | Tboung Khmum | 717**** | USD 100 |
| 6 | > 200 | THANG KIM CHHIV | Tboung Khmum | 724**** | USD 100 |
| 7 | > 200 | MAO SOVANNARITH | Kampong Speu | 717**** | USD 100 |
| 8 | > 200 | CHHORN SOVATH | Kampong Speu | 713**** | USD 100 |
| 9 | > 200 | OUM PHEAKDEY | Phnom Penh | 722**** | USD 100 |
| 10 | > 200 | SYNA MEY | Phnom Penh | 724**** | USD 100 |
| 11 | > 200 | LENG DEVID | Phnom Penh | 724**** | USD 100 |
| 12 | > 200 | LORN KOEMSANG | Phnom Penh | 724**** | USD 100 |
| 13 | > 200 | YIN SOCHAN | Phnom Penh | 722**** | USD 100 |
| 14 | > 200 | MAO SOKHA | Phnom Penh | 723**** | USD 100 |
| 15 | > 200 | CHHOEM MORNOR | Phnom Penh | 721**** | USD 100 |
| 16 | > 200 | NEANG PUNNREAY | Phnom Penh | 724**** | USD 100 |
| 17 | > 200 | KHON PISITH | Phnom Penh | 722**** | USD 100 |
| 18 | > 200 | BEAN MEAN | Phnom Penh | 722**** | USD 100 |
| 19 | > 200 | NOU CHANTHY | Phnom Penh | 723**** | USD 100 |
| 20 | > 200 | PENG VORLEAK | Phnom Penh | 717**** | USD 100 |
| 21 | > 200 | UNG BUNHOUR | Phnom Penh | 717**** | USD 100 |
| 22 | > 200 | MA SARON | Phnom Penh | 723**** | USD 100 |
| 23 | > 200 | VORN MENGLEANG | Phnom Penh | 713**** | USD 100 |
| 24 | > 200 | KIM MART | Phnom Penh | 714**** | USD 100 |
| 25 | > 200 | PHO SAIGON | Phnom Penh | 716**** | USD 100 |
| 26 | > 200 | LOEM RITHY | Phnom Penh | 721**** | USD 100 |
| 27 | > 200 | SAROEUN SREYLEAK | Phnom Penh | 724**** | USD 100 |
| 28 | > 200 | OUN MAB | Phnom Penh | 715**** | USD 100 |
| 29 | > 200 | MOT SAMBATH | Phnom Penh | 724**** | USD 100 |
| 30 | > 200 | SILLA KOREAN RESTAURANT | Phnom Penh | 716**** | USD 100 |
| 31 | > 200 | SAT PHANNY | Phnom Penh | 723**** | USD 100 |
| 32 | > 200 | CHRIS RITHY | Phnom Penh | 724**** | USD 100 |
| 33 | > 200 | KHEM NEANG | Phnom Penh | 724**** | USD 100 |
| 34 | > 200 | CHEA SOKLEAP | Phnom Penh | 724**** | USD 100 |
| 35 | > 200 | SAMRITH SODAVY | Phnom Penh | 724**** | USD 100 |
| 36 | > 200 | NIN MANATH | Phnom Penh | 722**** | USD 100 |
| 37 | > 200 | DOUNG SOMBO | Phnom Penh | 724**** | USD 100 |
| 38 | > 200 | KHY VICCHAKA | Phnom Penh | 722**** | USD 100 |
| 39 | > 200 | KOSAL PHALIM | Phnom Penh | 724**** | USD 100 |
| 40 | > 200 | PRAK SOKUNTHEA | Phnom Penh | 724**** | USD 100 |
| 41 | > 200 | SOEUN DARVOTHY | Phnom Penh | 724**** | USD 100 |
| 42 | > 200 | LONH LUN | Phnom Penh | 724**** | USD 100 |
| 43 | > 200 | MEAS KOEMLY | Phnom Penh | 724**** | USD 100 |
| 44 | > 200 | NGOUN SAMAUN | Phnom Penh | 713**** | USD 100 |
| 45 | > 200 | DARA PICH | Phnom Penh | 712**** | USD 100 |
| 46 | > 200 | LIM LYCHENG | Siemreap | 724**** | USD 100 |
| 47 | > 200 | HENG LYHOUR | Siemreap | 724**** | USD 100 |
| 48 | > 200 | LAK SOEUNG | Siemreap | 724**** | USD 100 |
| 49 | > 200 | KROUCH SARAK | Siemreap | 724**** | USD 100 |
| 50 | > 200 | PAK PUNNLOENG | Siemreap | 724**** | USD 100 |
| 51 | > 200 | TOCH SOKPHY | Siemreap | 724**** | USD 100 |
| 52 | > 200 | KHORN CHANTHORN | Siemreap | 724**** | USD 100 |
| 53 | > 200 | POL VICHET | Siemreap | 724**** | USD 100 |
| 54 | > 200 | CHEAT SEYHA | Siemreap | 724**** | USD 100 |
| 55 | > 200 | HAK | Siemreap | 724**** | USD 100 |
| 56 | > 200 | EAM SOVOLEAK | Siemreap | 724**** | USD 100 |
| 57 | > 200 | LY BUNLEANG | Siemreap | 724**** | USD 100 |
| 58 | > 200 | CHHET CHHORM | Siemreap | 724**** | USD 100 |
| 59 | > 200 | LAY KUNTHEA | Siemreap | 724**** | USD 100 |
| 60 | > 200 | SREY SAMBATH | Siemreap | 724**** | USD 100 |
| 61 | > 200 | THOEUN ROM | Siemreap | 724**** | USD 100 |
| 62 | > 200 | SORL LON | Siemreap | 724**** | USD 100 |
| 63 | > 200 | PHON THYDA | Siemreap | 724**** | USD 100 |
| 64 | > 200 | YOU BEAUR | Siemreap | 724**** | USD 100 |
| 65 | > 200 | SORN CHANNY | Siemreap | 724**** | USD 100 |
| 66 | > 200 | CHHOT TREN | Siemreap | 724**** | USD 100 |
| 67 | > 200 | EL AMINAS | Siemreap | 724**** | USD 100 |
| 68 | > 200 | SUNG BUNSAN | Siemreap | 724**** | USD 100 |
| 69 | > 200 | SRENG CHEANG | Siemreap | 724**** | USD 100 |
| 70 | > 200 | DOL SOPHEAK | Siemreap | 724**** | USD 100 |
| 71 | > 200 | Kailash House | Siemreap | 724**** | USD 100 |
| 72 | > 200 | NAM CHEM | Siemreap | 724**** | USD 100 |
| 73 | > 200 | CHHDAO | Siemreap | 724**** | USD 100 |
| 74 | > 200 | LAK LY | Siemreap | 724**** | USD 100 |
| 75 | > 200 | NIM CHAMNAB | Siemreap | 724**** | USD 100 |
| 76 | > 200 | THOL VANTHOEUN | Siemreap | 724**** | USD 100 |
| 77 | > 200 | PICH NARITH | Siemreap | 724**** | USD 100 |
| 78 | > 200 | YEM SOKVON | Siemreap | 724**** | USD 100 |
| 79 | > 200 | CHHAT THAINITA | Siemreap | 724**** | USD 100 |
| 80 | > 200 | CHEA VUTH | Siemreap | 724**** | USD 100 |
| 81 | > 200 | SEM PIROM | Siemreap | 724**** | USD 100 |
| 82 | > 200 | SEM SEYHA | Siemreap | 724**** | USD 100 |
| 83 | > 200 | NGIN OUCHIK | Siemreap | 724**** | USD 100 |
| 84 | > 200 | CHEU BORA | Siemreap | 724**** | USD 100 |
| 85 | > 200 | THEAV PHALLY | Siemreap | 724**** | USD 100 |
| 86 | > 200 | VANN CHIVA | Siemreap | 724**** | USD 100 |
| 87 | > 200 | SRENG SEANGI | Siemreap | 724**** | USD 100 |
| 88 | > 200 | TAN KIMLENG | Siemreap | 724**** | USD 100 |
| 89 | > 200 | LAI CHARIYA | Siemreap | 724**** | USD 100 |
| 90 | > 200 | CHHEM SOKSAN | Siemreap | 723**** | USD 100 |
| 91 | > 200 | CHAN NARONG | Siemreap | 723**** | USD 100 |
| 92 | > 200 | SOM BUNNARY | Siemreap | 724**** | USD 100 |
| 93 | > 200 | TOUCH CHANVOLEAK | Siemreap | 724**** | USD 100 |
| 94 | > 200 | PAV LEANGHOUNN | Siemreap | 724**** | USD 100 |
| 95 | > 200 | PEN RATTANKSERYNICH | Siemreap | 723**** | USD 100 |
| 96 | > 200 | RATH BORIN | Siemreap | 724**** | USD 100 |
| 97 | > 200 | NANG HOKLIM | Siemreap | 724**** | USD 100 |
| 98 | > 200 | CHEA SOPHEAK | Siemreap | 724**** | USD 100 |
| 99 | > 200 | CHHOY SOPHEAP | Siemreap | 724**** | USD 100 |
| 100 | > 200 | MOP BUNLENG | Siemreap | 724**** | USD 100 |
| 101 | > 200 | POK KUNTHEA | Siemreap | 724**** | USD 100 |
| 102 | > 200 | KIM SEYHA | Siemreap | 724**** | USD 100 |
| 103 | > 200 | NGIN MALY | Siemreap | 712**** | USD 100 |
| 104 | > 200 | SOK OEUN | Siemreap | 724**** | USD 100 |
| 105 | > 200 | CHHORN KEO SUKIM WING | Svay Rieng | 712**** | USD 100 |
| 106 | > 200 | SELL HEALTH COFFEE | Takeo | 714**** | USD 100 |
| 107 | 100 - 200 | REAKSMEY NITTA | Battambang | 712**** | USD 60 |
| 108 | 100 - 200 | UM REAKSMEY | Battambang | 719**** | USD 60 |
| 109 | 100 - 200 | Korean Pot Soup | Banteay Meanchey | 714**** | USD 60 |
| 110 | 100 - 200 | KOEM KUNTHEA | Banteay Meanchey | 716**** | USD 60 |
| 111 | 100 - 200 | HIN KIMHON | Banteay Meanchey | 717**** | USD 60 |
| 112 | 100 - 200 | foof and beverage | Kampong Chhnang | 713**** | USD 60 |
| 113 | 100 - 200 | PHEATEANG PENH | Kampong Cham | 716**** | USD 60 |
| 114 | 100 - 200 | VANDY KIMHEAN | Tboung Khmum | 714**** | USD 60 |
| 115 | 100 - 200 | HENG KHENG | Kandal | 724**** | USD 60 |
| 116 | 100 - 200 | KHAT CHANSOK | Kandal | 724**** | USD 60 |
| 117 | 100 - 200 | DEI DOSD | Kandal | 717**** | USD 60 |
| 118 | 100 - 200 | SENG SILA | Kandal | 724**** | USD 60 |
| 119 | 100 - 200 | GROCERY STORE | Kandal | 715**** | USD 60 |
| 120 | 100 - 200 | SEY VATHANAK | Kandal | 724**** | USD 60 |
| 121 | 100 - 200 | HAK CHHAI | Kandal | 721**** | USD 60 |
| 122 | 100 - 200 | REN SOKTY | Kampong Thom | 714**** | USD 60 |
| 123 | 100 - 200 | CHOENG LIHENG | Kratie | 722**** | USD 60 |
| 124 | 100 - 200 | UM VUTHY | Phnom Penh | 724**** | USD 60 |
| 125 | 100 - 200 | KHUON RAVY | Phnom Penh | 724**** | USD 60 |
| 126 | 100 - 200 | PON DEVETH | Phnom Penh | 722**** | USD 60 |
| 127 | 100 - 200 | THON MAROT | Phnom Penh | 723**** | USD 60 |
| 128 | 100 - 200 | LIM SOKUNTHEARY | Phnom Penh | 724**** | USD 60 |
| 129 | 100 - 200 | ROUS MONNY | Phnom Penh | 724**** | USD 60 |
| 130 | 100 - 200 | CHAN TOLA | Phnom Penh | 721**** | USD 60 |
| 131 | 100 - 200 | TRAY SOKHENG | Phnom Penh | 724**** | USD 60 |
| 132 | 100 - 200 | MET KIMSRY | Phnom Penh | 722**** | USD 60 |
| 133 | 100 - 200 | SOUN SORACHNA | Phnom Penh | 724**** | USD 60 |
| 134 | 100 - 200 | TOCH SREYLIN | Phnom Penh | 724**** | USD 60 |
| 135 | 100 - 200 | CHEA CHEAN | Phnom Penh | 715**** | USD 60 |
| 136 | 100 - 200 | CHAMROUEN MONEY | Phnom Penh | 717**** | USD 60 |
| 137 | 100 - 200 | LY CHUNGMEAN | Phnom Penh | 723**** | USD 60 |
| 138 | 100 - 200 | LEY MABB | Phnom Penh | 723**** | USD 60 |
| 139 | 100 - 200 | KHY VANNAK | Phnom Penh | 723**** | USD 60 |
| 140 | 100 - 200 | SORM SOVANNARA | Phnom Penh | 724**** | USD 60 |
| 141 | 100 - 200 | CHEON SOKHEANG | Phnom Penh | 724**** | USD 60 |
| 142 | 100 - 200 | CHAN BORODEN | Phnom Penh | 724**** | USD 60 |
| 143 | 100 - 200 | VEN SOBEN | Phnom Penh | 721**** | USD 60 |
| 144 | 100 - 200 | NHEM SREYROTH | Phnom Penh | 724**** | USD 60 |
| 145 | 100 - 200 | LY ROZANA | Phnom Penh | 713**** | USD 60 |
| 146 | 100 - 200 | SRENG LUYNENG | Phnom Penh | 724**** | USD 60 |
| 147 | 100 - 200 | SRUN MONGHOUT | Phnom Penh | 719**** | USD 60 |
| 148 | 100 - 200 | HORN MEAN | Phnom Penh | 722**** | USD 60 |
| 149 | 100 - 200 | KOUY MENGLEAP | Phnom Penh | 713**** | USD 60 |
| 150 | 100 - 200 | KHOEURN KEOV | Phnom Penh | 721**** | USD 60 |
| 151 | 100 - 200 | NOU SOPHAI | Phnom Penh | 721**** | USD 60 |
| 152 | 100 - 200 | AT STMC | Phnom Penh | 724**** | USD 60 |
| 153 | 100 - 200 | KHUON RATANAK | Phnom Penh | 724**** | USD 60 |
| 154 | 100 - 200 | PRUM ANGKEARCHAKRIYA | Phnom Penh | 712**** | USD 60 |
| 155 | 100 - 200 | ABC BBQ | Phnom Penh | 713**** | USD 60 |
| 156 | 100 - 200 | CHHANG HOUR | Phnom Penh | 723**** | USD 60 |
| 157 | 100 - 200 | HUN NARIN | Phnom Penh | 724**** | USD 60 |
| 158 | 100 - 200 | HONG SENG POV | Phnom Penh | 716**** | USD 60 |
| 159 | 100 - 200 | CHORN THO | Phnom Penh | 721**** | USD 60 |
| 160 | 100 - 200 | LAY LAIHUO | Phnom Penh | 724**** | USD 60 |
| 161 | 100 - 200 | LEE JEONG HWA | Phnom Penh | 714**** | USD 60 |
| 162 | 100 - 200 | KIM SAMBAT | Phnom Penh | 720**** | USD 60 |
| 163 | 100 - 200 | CHHOENG KIMHONG | Phnom Penh | 724**** | USD 60 |
| 164 | 100 - 200 | BE PHORPSAMNANG | Phnom Penh | 721**** | USD 60 |
| 165 | 100 - 200 | DY SITHOEUN | Phnom Penh | 717**** | USD 60 |
| 166 | 100 - 200 | HAM SOLITA | Phnom Penh | 721**** | USD 60 |
| 167 | 100 - 200 | HENG RITH | Phnom Penh | 724**** | USD 60 |
| 168 | 100 - 200 | MEAN SAMANG | Phnom Penh | 724**** | USD 60 |
| 169 | 100 - 200 | EY CHANDARA | Phnom Penh | 721**** | USD 60 |
| 170 | 100 - 200 | CHHAY RATANA | Phnom Penh | 724**** | USD 60 |
| 171 | 100 - 200 | HORL KOEMSROS | Phnom Penh | 724**** | USD 60 |
| 172 | 100 - 200 | PISETHSREYNIM | Phnom Penh | 718**** | USD 60 |
| 173 | 100 - 200 | CHORUR NANN | Phnom Penh | 724**** | USD 60 |
| 174 | 100 - 200 | EAV THANY | Phnom Penh | 724**** | USD 60 |
| 175 | 100 - 200 | KHEAN ERKHANG | Phnom Penh | 724**** | USD 60 |
| 176 | 100 - 200 | HAY CHANTIN | Phnom Penh | 721**** | USD 60 |
| 177 | 100 - 200 | PHON KIMHONG | Phnom Penh | 721**** | USD 60 |
| 178 | 100 - 200 | SAT SREYNICH | Phnom Penh | 724**** | USD 60 |
| 179 | 100 - 200 | SOL SREYNUON | Phnom Penh | 724**** | USD 60 |
| 180 | 100 - 200 | HIM SOMBATH | Phnom Penh | 724**** | USD 60 |
| 181 | 100 - 200 | YUM YIM | Phnom Penh | 723**** | USD 60 |
| 182 | 100 - 200 | KHON SOKHOEURN | Phnom Penh | 722**** | USD 60 |
| 183 | 100 - 200 | OR DAVY | Phnom Penh | 724**** | USD 60 |
| 184 | 100 - 200 | ROEM SREYRUTH | Phnom Penh | 723**** | USD 60 |
| 185 | 100 - 200 | LOUN SOVANN | Phnom Penh | 713**** | USD 60 |
| 186 | 100 - 200 | NHEM DAVIT | Phnom Penh | 722**** | USD 60 |
| 187 | 100 - 200 | KHON NARUN | Phnom Penh | 724**** | USD 60 |
| 188 | 100 - 200 | NGITH VA | Phnom Penh | 721**** | USD 60 |
| 189 | 100 - 200 | SOVANN SELA | Phnom Penh | 721**** | USD 60 |
| 190 | 100 - 200 | SARAY VANTHA | Phnom Penh | 721**** | USD 60 |
| 191 | 100 - 200 | MORN VANNOEU | Phnom Penh | 724**** | USD 60 |
| 192 | 100 - 200 | ON CHANRITHY | Phnom Penh | 724**** | USD 60 |
| 193 | 100 - 200 | LY CHHILONG | Phnom Penh | 724**** | USD 60 |
| 194 | 100 - 200 | POV SREYTOUCH | Phnom Penh | 724**** | USD 60 |
| 195 | 100 - 200 | TRIN SOKKHORN | Phnom Penh | 723**** | USD 60 |
| 196 | 100 - 200 | LI COFFEE | Phnom Penh | 719**** | USD 60 |
| 197 | 100 - 200 | PROEUNG KOSORL | Phnom Penh | 721**** | USD 60 |
| 198 | 100 - 200 | TOM DAVID | Phnom Penh | 718**** | USD 60 |
| 199 | 100 - 200 | SOK DAM | Phnom Penh | 723**** | USD 60 |
| 200 | 100 - 200 | AT BBQ | Phnom Penh | 723**** | USD 60 |
| 201 | 100 - 200 | ING BUNCHHAY | Phnom Penh | 718**** | USD 60 |
| 202 | 100 - 200 | CHEA PISOUR | Phnom Penh | 715**** | USD 60 |
| 203 | 100 - 200 | LIM SOTHEAVY | Phnom Penh | 722**** | USD 60 |
| 204 | 100 - 200 | TAM MENGHOUNG | Phnom Penh | 722**** | USD 60 |
| 205 | 100 - 200 | RATANAK COFFEE | Phnom Penh | 712**** | USD 60 |
| 206 | 100 - 200 | SROUN SOKNA | Phnom Penh | 719**** | USD 60 |
| 207 | 100 - 200 | YA SEANGHENG | Phnom Penh | 724**** | USD 60 |
| 208 | 100 - 200 | ENG SONY | Phnom Penh | 724**** | USD 60 |
| 209 | 100 - 200 | CHHUN DARA | Phnom Penh | 724**** | USD 60 |
| 210 | 100 - 200 | KOEUN RANYA | Phnom Penh | 724**** | USD 60 |
| 211 | 100 - 200 | TEA PHEARA | Phnom Penh | 718**** | USD 60 |
| 212 | 100 - 200 | KONG THIDA | Phnom Penh | 720**** | USD 60 |
| 213 | 100 - 200 | SENG BOUNA | Phnom Penh | 720**** | USD 60 |
| 214 | 100 - 200 | CHEP SIEVMEI | Phnom Penh | 724**** | USD 60 |
| 215 | 100 - 200 | KON TEY RESTAURANT | Phnom Penh | 721**** | USD 60 |
| 216 | 100 - 200 | KOEURN LAISIM | Phnom Penh | 724**** | USD 60 |
| 217 | 100 - 200 | Y MUOYCHHUN | Phnom Penh | 718**** | USD 60 |
| 218 | 100 - 200 | Band Caf'e&Bakerg | Phnom Penh | 714**** | USD 60 |
| 219 | 100 - 200 | SO SINH | Siemreap | 724**** | USD 60 |
| 220 | 100 - 200 | HIM LIDA | Siemreap | 713**** | USD 60 |
| 221 | 100 - 200 | SOT SOCHEAT | Siemreap | 724**** | USD 60 |
| 222 | 100 - 200 | RUON THY | Siemreap | 724**** | USD 60 |
| 223 | 100 - 200 | TONG SOPHAL | Siemreap | 724**** | USD 60 |
| 224 | 100 - 200 | MATH SIT | Siemreap | 724**** | USD 60 |
| 225 | 100 - 200 | KEO KALINA | Siemreap | 724**** | USD 60 |
| 226 | 100 - 200 | THOL VANSPHEAKNA | Siemreap | 724**** | USD 60 |
| 227 | 100 - 200 | KHOEM SOKHEANG | Siemreap | 724**** | USD 60 |
| 228 | 100 - 200 | AIE KOUNGMENG | Siemreap | 723**** | USD 60 |
| 229 | 100 - 200 | TOUCH SAREATH | Siemreap | 724**** | USD 60 |
| 230 | 100 - 200 | SOK SIDET | Siemreap | 724**** | USD 60 |
| 231 | 100 - 200 | AM SAVOEUN | Siemreap | 724**** | USD 60 |
| 232 | 100 - 200 | CHAN THOEUY | Siemreap | 724**** | USD 60 |
| 233 | 100 - 200 | CHEA KIRY | Siemreap | 724**** | USD 60 |
| 234 | 100 - 200 | CHUON CHETH | Siemreap | 724**** | USD 60 |
| 235 | 100 - 200 | CHHUN CHANDARAVY | Siemreap | 724**** | USD 60 |
| 236 | 100 - 200 | OUK SOPHAL | Siemreap | 724**** | USD 60 |
| 237 | 100 - 200 | PHORM PHAI | Siemreap | 724**** | USD 60 |
| 238 | 100 - 200 | MOSTAFA ALY | Siemreap | 724**** | USD 60 |
| 239 | 100 - 200 | CHAIM NY | Siemreap | 724**** | USD 60 |
| 240 | 100 - 200 | MEATOPHUM | Siemreap | 714**** | USD 60 |
| 241 | 100 - 200 | CHHOUN | Svay Rieng | 712**** | USD 60 |
| 242 | 40 - 99 | YOENG SREYRATH | Battambang | 717**** | USD 30 |
| 243 | 40 - 99 | EANG SEAVLY | Battambang | 716**** | USD 30 |
| 244 | 40 - 99 | BABY WORLD BATTAMBANG | Battambang | 719**** | USD 30 |
| 245 | 40 - 99 | LIM BUNNARITH | Battambang | 719**** | USD 30 |
| 246 | 40 - 99 | BABY WOLRD SHOP | Battambang | 712**** | USD 30 |
| 247 | 40 - 99 | HENG MOUYLENG | Banteay Meanchey | 718**** | USD 30 |
| 248 | 40 - 99 | LEY YONGHONG | Banteay Meanchey | 720**** | USD 30 |
| 249 | 40 - 99 | SAT PHEARIN | Kampong Chhnang | 719**** | USD 30 |
| 250 | 40 - 99 | CHAN SOVONG | Kampong Chhnang | 713**** | USD 30 |
| 251 | 40 - 99 | BEAN SOCHAN | Kampong Chhnang | 718**** | USD 30 |
| 252 | 40 - 99 | CHANLEAPHY SALE HOUSEWARES | Kampong Cham | 722**** | USD 30 |
| 253 | 40 - 99 | E LY FOR SALE RICE AND DRINK SHOP | Kampong Cham | 712**** | USD 30 |
| 254 | 40 - 99 | SREYLEAS SALE POKE | Kandal | 718**** | USD 30 |
| 255 | 40 - 99 | DIEB DOEM | Kandal | 724**** | USD 30 |
| 256 | 40 - 99 | SEM BUNLONG | Kandal | 724**** | USD 30 |
| 257 | 40 - 99 | TAB VANTIN | Kandal | 715**** | USD 30 |
| 258 | 40 - 99 | CHEU CHUOB | Kandal | 724**** | USD 30 |
| 259 | 40 - 99 | Restaurant | Kandal | 714**** | USD 30 |
| 260 | 40 - 99 | RUKHAFE | Kandal | 712**** | USD 30 |
| 261 | 40 - 99 | VANTHA CHANRATANA | Kandal | 724**** | USD 30 |
| 262 | 40 - 99 | VUN KOEMSENG | Kandal | 724**** | USD 30 |
| 263 | 40 - 99 | PANHA HOSPITAL | Kandal | 717**** | USD 30 |
| 264 | 40 - 99 | SEN LEKHENA | Kandal | 719**** | USD 30 |
| 265 | 40 - 99 | CHEA LYGECH | Kandal | 724**** | USD 30 |
| 266 | 40 - 99 | COFFEE SHOP | Kandal | 716**** | USD 30 |
| 267 | 40 - 99 | NEM SREYMOM | Sihanouk Ville | 712**** | USD 30 |
| 268 | 40 - 99 | HIENG SMEIRADA | Kampong speu | 714**** | USD 30 |
| 269 | 40 - 99 | TOUCH PHANNY | Kampot | 717**** | USD 30 |
| 270 | 40 - 99 | THENG NAT | Kampong Thom | 718**** | USD 30 |
| 271 | 40 - 99 | HANGLOKMOTO HONGDA TY CHHENGHAK | Kampong Thom | 713**** | USD 30 |
| 272 | 40 - 99 | UN KUNTHA | Kampong Thom | 715**** | USD 30 |
| 273 | 40 - 99 | YEM YUTHY | Kampong Thom | 714**** | USD 30 |
| 274 | 40 - 99 | BO SOKMEAN | Kampong Thom | 714**** | USD 30 |
| 275 | 40 - 99 | HAT KIMVIN | Kampong Thom | 712**** | USD 30 |
| 276 | 40 - 99 | LEAN KUNLAM | Kampong Thom | 717**** | USD 30 |
| 277 | 40 - 99 | TEANG PANHARY | Kampong Speu | 713**** | USD 30 |
| 278 | 40 - 99 | HONG THAY | Kampong Speu | 713**** | USD 30 |
| 279 | 40 - 99 | CRYSTAL DENTAL CLINIC | Kampong Speu | 712**** | USD 30 |
| 280 | 40 - 99 | SEAV SREYNEANG | Kampong Speu | 723**** | USD 30 |
| 281 | 40 - 99 | BUN PRAKVAN | Phnom Penh | 723**** | USD 30 |
| 282 | 40 - 99 | LA PHIARA FLORAL BOUTIQUE | Phnom Penh | 712**** | USD 30 |
| 283 | 40 - 99 | PEOV CHANDARAPISEY | Phnom Penh | 720**** | USD 30 |
| 284 | 40 - 99 | SANTEPHEAP CLINIC I | Phnom Penh | 722**** | USD 30 |
| 285 | 40 - 99 | VUTH SIRIPANHAVORN | Phnom Penh | 723**** | USD 30 |
| 286 | 40 - 99 | CHAB CHOMRAEN | Phnom Penh | 723**** | USD 30 |
| 287 | 40 - 99 | ROS TONGVENG | Phnom Penh | 723**** | USD 30 |
| 288 | 40 - 99 | SVAY DELUXE | Phnom Penh | 724**** | USD 30 |
| 289 | 40 - 99 | TOURN CHANRAK SMEY | Phnom Penh | 713**** | USD 30 |
| 290 | 40 - 99 | Sell Beef | Phnom Penh | 719**** | USD 30 |
| 291 | 40 - 99 | PHEACH CHANPHAL | Phnom Penh | 715**** | USD 30 |
| 292 | 40 - 99 | LENG DAVID | Phnom Penh | 714**** | USD 30 |
| 293 | 40 - 99 | LONG HOUR | Phnom Penh | 715**** | USD 30 |
| 294 | 40 - 99 | HENG BOREY | Phnom Penh | 717**** | USD 30 |
| 295 | 40 - 99 | LY KIMHENG | Phnom Penh | 722**** | USD 30 |
| 296 | 40 - 99 | PHO SOMNANG | Phnom Penh | 723**** | USD 30 |
| 297 | 40 - 99 | RIN KEO CHHEANG | Phnom Penh | 719**** | USD 30 |
| 298 | 40 - 99 | SOKHENG PO | Phnom Penh | 719**** | USD 30 |
| 299 | 40 - 99 | SUOS VANHAN | Phnom Penh | 721**** | USD 30 |
| 300 | 40 - 99 | TAING GUECHHUONG | Phnom Penh | 715**** | USD 30 |
| 301 | 40 - 99 | CHHORN MAP | Phnom Penh | 720**** | USD 30 |
| 302 | 40 - 99 | KHEN SEANGHAI | Phnom Penh | 724**** | USD 30 |
| 303 | 40 - 99 | TITH CHOUER | Phnom Penh | 724**** | USD 30 |
| 304 | 40 - 99 | PENG SOKCHAMROEUN | Phnom Penh | 716**** | USD 30 |
| 305 | 40 - 99 | MOUN KITH | Phnom Penh | 723**** | USD 30 |
| 306 | 40 - 99 | LAY BONA | Phnom Penh | 724**** | USD 30 |
| 307 | 40 - 99 | KHUT PHEARAK | Phnom Penh | 722**** | USD 30 |
| 308 | 40 - 99 | SOR PORCHHA | Phnom Penh | 724**** | USD 30 |
| 309 | 40 - 99 | PPI-USE | Phnom Penh | 723**** | USD 30 |
| 310 | 40 - 99 | KHY CHANTHOU | Phnom Penh | 722**** | USD 30 |
| 311 | 40 - 99 | THEA THIB | Phnom Penh | 721**** | USD 30 |
| 312 | 40 - 99 | NEANG NAK | Phnom Penh | 724**** | USD 30 |
| 313 | 40 - 99 | VAT VEN | Phnom Penh | 723**** | USD 30 |
| 314 | 40 - 99 | NEANG THIDA | Phnom Penh | 721**** | USD 30 |
| 315 | 40 - 99 | SOPHEAK COFFEE TRAV | Phnom Penh | 712**** | USD 30 |
| 316 | 40 - 99 | KHOEM SOVANNARA | Phnom Penh | 721**** | USD 30 |
| 317 | 40 - 99 | LO LYHOR | Phnom Penh | 719**** | USD 30 |
| 318 | 40 - 99 | THY SENGRAKSA | Phnom Penh | 717**** | USD 30 |
| 319 | 40 - 99 | LY SIVMENG | Phnom Penh | 723**** | USD 30 |
| 320 | 40 - 99 | STAR COFFEE | Phnom Penh | 712**** | USD 30 |
| 321 | 40 - 99 | KIM SEANGKUNG | Phnom Penh | 715**** | USD 30 |
| 322 | 40 - 99 | MEN RIVIZANIT | Phnom Penh | 723**** | USD 30 |
| 323 | 40 - 99 | OUK SOCHEATA | Phnom Penh | 723**** | USD 30 |
| 324 | 40 - 99 | SENG KAKKDA | Phnom Penh | 720**** | USD 30 |
| 325 | 40 - 99 | CHO EUNJIN | Phnom Penh | 715**** | USD 30 |
| 326 | 40 - 99 | KIM OUN | Phnom Penh | 713**** | USD 30 |
| 327 | 40 - 99 | CHHEUN SOKCHEA | Phnom Penh | 716**** | USD 30 |
| 328 | 40 - 99 | BORA THEARIN | Phnom Penh | 723**** | USD 30 |
| 329 | 40 - 99 | PRACH PHALLY | Phnom Penh | 723**** | USD 30 |
| 330 | 40 - 99 | LY SOLINNA RESTAURANT | Phnom Penh | 712**** | USD 30 |
| 331 | 40 - 99 | Magic Nails Solan | Phnom Penh | 724**** | USD 30 |
| 332 | 40 - 99 | Repair Phone | Phnom Penh | 724**** | USD 30 |
| 333 | 40 - 99 | THO RATHA | Phnom Penh | 724**** | USD 30 |
| 334 | 40 - 99 | NHOEK KOEMSRUN | Phnom Penh | 715**** | USD 30 |
| 335 | 40 - 99 | BIN SOCHENDA | Phnom Penh | 723**** | USD 30 |
| 336 | 40 - 99 | MOHAMMAT ROZA | Phnom Penh | 723**** | USD 30 |
| 337 | 40 - 99 | Aroi Mooyang | Phnom Penh | 724**** | USD 30 |
| 338 | 40 - 99 | BARBER BOY SHOP | Phnom Penh | 712**** | USD 30 |
| 339 | 40 - 99 | MEAN KOSAL | Phnom Penh | 724**** | USD 30 |
| 340 | 40 - 99 | GROCERY​ STORE | Phnom Penh | 713**** | USD 30 |
| 341 | 40 - 99 | LY LONG | Phnom Penh | 723**** | USD 30 |
| 342 | 40 - 99 | OEUN SEKLA | Phnom Penh | 723**** | USD 30 |
| 343 | 40 - 99 | SEYLA RATANA | Phnom Penh | 722**** | USD 30 |
| 344 | 40 - 99 | SONG CHHUNHENG | Phnom Penh | 723**** | USD 30 |
| 345 | 40 - 99 | VORN SOPHEA | Phnom Penh | 721**** | USD 30 |
| 346 | 40 - 99 | YAM SOPHEAK | Phnom Penh | 723**** | USD 30 |
| 347 | 40 - 99 | CHAMRAEN THAIKOR | Phnom Penh | 719**** | USD 30 |
| 348 | 40 - 99 | LEE KYUNGMI | Phnom Penh | 719**** | USD 30 |
| 349 | 40 - 99 | PHAN SOVANN | Phnom Penh | 713**** | USD 30 |
| 350 | 40 - 99 | LY LINA | Phnom Penh | 724**** | USD 30 |
| 351 | 40 - 99 | CHENG YOUCHHENG | Phnom Penh | 724**** | USD 30 |
| 352 | 40 - 99 | CHORK VASNA | Phnom Penh | 724**** | USD 30 |
| 353 | 40 - 99 | PSK WEDDING GIFT | Phnom Penh | 712**** | USD 30 |
| 354 | 40 - 99 | MEK PHARY | Phnom Penh | 721**** | USD 30 |
| 355 | 40 - 99 | NOU SANDAY | Phnom Penh | 720**** | USD 30 |
| 356 | 40 - 99 | OUNG SATHYAPESETH | Phnom Penh | 724**** | USD 30 |
| 357 | 40 - 99 | LUN HUNG | Phnom Penh | 713**** | USD 30 |
| 358 | 40 - 99 | CHREONG CHHAIVOEURN | Phnom Penh | 723**** | USD 30 |
| 359 | 40 - 99 | NOY LEAKHENA | Phnom Penh | 724**** | USD 30 |
| 360 | 40 - 99 | PHKAR TMOR RESTAURANT | Phnom Penh | 723**** | USD 30 |
| 361 | 40 - 99 | SREYROTH SOK | Phnom Penh | 721**** | USD 30 |
| 362 | 40 - 99 | KUM ROTHTANA | Phnom Penh | 723**** | USD 30 |
| 363 | 40 - 99 | LIM SIVGECH | Phnom Penh | 715**** | USD 30 |
| 364 | 40 - 99 | YANG VANNA | Phnom Penh | 718**** | USD 30 |
| 365 | 40 - 99 | NIGHT IN HOLTE | Phnom Penh | 724**** | USD 30 |
| 366 | 40 - 99 | NOP KUNTHEA | Phnom Penh | 712**** | USD 30 |
| 367 | 40 - 99 | TRAN HOAI NAM | Phnom Penh | 717**** | USD 30 |
| 368 | 40 - 99 | CHANN DANY | Phnom Penh | 719**** | USD 30 |
| 369 | 40 - 99 | MEAS PHEAKTRA | Phnom Penh | 723**** | USD 30 |
| 370 | 40 - 99 | MAO LONG | Phnom Penh | 724**** | USD 30 |
| 371 | 40 - 99 | NGAB CHANTHA | Phnom Penh | 724**** | USD 30 |
| 372 | 40 - 99 | LIN SOPHEAKTRA | Phnom Penh | 719**** | USD 30 |
| 373 | 40 - 99 | MENG SOCHAN | Phnom Penh | 724**** | USD 30 |
| 374 | 40 - 99 | INCHEON KOREAN BBQ | Phnom Penh | 715**** | USD 30 |
| 375 | 40 - 99 | ESTRELLA COFFEE | Phnom Penh | 713**** | USD 30 |
| 376 | 40 - 99 | CHHIN MENGCHHEANG | Phnom Penh | 724**** | USD 30 |
| 377 | 40 - 99 | YON DARA | Phnom Penh | 712**** | USD 30 |
| 378 | 40 - 99 | CHAN SREYMOM | Phnom Penh | 724**** | USD 30 |
| 379 | 40 - 99 | KHLANG SOPHEAKTRA | Phnom Penh | 724**** | USD 30 |
| 380 | 40 - 99 | OUM PHANNA | Phnom Penh | 724**** | USD 30 |
| 381 | 40 - 99 | SANGHA DONG | Phnom Penh | 724**** | USD 30 |
| 382 | 40 - 99 | IM AN | Phnom Penh | 720**** | USD 30 |
| 383 | 40 - 99 | HUOY RATHA | Phnom Penh | 722**** | USD 30 |
| 384 | 40 - 99 | CHEANG VICHET | Phnom Penh | 722**** | USD 30 |
| 385 | 40 - 99 | TAN BUNRATHANA | Phnom Penh | 714**** | USD 30 |
| 386 | 40 - 99 | YEM CHANTHET | Phnom Penh | 721**** | USD 30 |
| 387 | 40 - 99 | SAM SAVORN | Phnom Penh | 724**** | USD 30 |
| 388 | 40 - 99 | TRY KIMTRAI | Phnom Penh | 723**** | USD 30 |
| 389 | 40 - 99 | BP PREMIUM | Phnom Penh | 722**** | USD 30 |
| 390 | 40 - 99 | LAM CHENG | Phnom Penh | 715**** | USD 30 |
| 391 | 40 - 99 | CHY SANANDA | Phnom Penh | 724**** | USD 30 |
| 392 | 40 - 99 | KIM HIY | Phnom Penh | 724**** | USD 30 |
| 393 | 40 - 99 | SY ROTHA | Phnom Penh | 722**** | USD 30 |
| 394 | 40 - 99 | ROS BOPHANY | Phnom Penh | 718**** | USD 30 |
| 395 | 40 - 99 | HEM SODA | Phnom Penh | 724**** | USD 30 |
| 396 | 40 - 99 | EANG CHANRATHA | Phnom Penh | 722**** | USD 30 |
| 397 | 40 - 99 | PON SOKHA | Phnom Penh | 721**** | USD 30 |
| 398 | 40 - 99 | PTT TUOL KOUK | Phnom Penh | 724**** | USD 30 |
| 399 | 40 - 99 | PICH UDOM | Phnom Penh | 717**** | USD 30 |
| 400 | 40 - 99 | SAM ASMAK | Phnom Penh | 715**** | USD 30 |
| 401 | 40 - 99 | CHAMROEUN PAGNA | Phnom Penh | 713**** | USD 30 |
| 402 | 40 - 99 | ENG VANNY GROCERY STORE | Phnom Penh | 712**** | USD 30 |
| 403 | 40 - 99 | HOU SREYROTH | Phnom Penh | 715**** | USD 30 |
| 404 | 40 - 99 | SOK CHAMROEUN | Phnom Penh | 722**** | USD 30 |
| 405 | 40 - 99 | SACH ANG PROCHEA PREY | Phnom Penh | 713**** | USD 30 |
| 406 | 40 - 99 | HAN NARY | Phnom Penh | 724**** | USD 30 |
| 407 | 40 - 99 | NUON NICH | Phnom Penh | 723**** | USD 30 |
| 408 | 40 - 99 | BUN LONG | Phnom Penh | 713**** | USD 30 |
| 409 | 40 - 99 | CHHAN CHHIENG | Phnom Penh | 724**** | USD 30 |
| 410 | 40 - 99 | CHHOEM THITA | Phnom Penh | 724**** | USD 30 |
| 411 | 40 - 99 | KIM ROTANA | Phnom Penh | 718**** | USD 30 |
| 412 | 40 - 99 | ROS THYDA | Phnom Penh | 719**** | USD 30 |
| 413 | 40 - 99 | KHO SOMALY | Phnom Penh | 717**** | USD 30 |
| 414 | 40 - 99 | HIN KIMHONG | Phnom Penh | 721**** | USD 30 |
| 415 | 40 - 99 | SOK SONY | Phnom Penh | 723**** | USD 30 |
| 416 | 40 - 99 | CHHAY DALAT | Phnom Penh | 720**** | USD 30 |
| 417 | 40 - 99 | CHEP KEATHAV | Phnom Penh | 724**** | USD 30 |
| 418 | 40 - 99 | EAN SREYLEAK | Preah Vihear | 712**** | USD 30 |
| 419 | 40 - 99 | SENG THEY | Preah Vihear | 712**** | USD 30 |
| 420 | 40 - 99 | HAY CHANNY | Ratanak Kiri | 724**** | USD 30 |
| 421 | 40 - 99 | KIM OEUN BORAVY | Ratanak Kiri | 713**** | USD 30 |
| 422 | 40 - 99 | EAM SOSREYNOCH | Siemreap | 724**** | USD 30 |
| 423 | 40 - 99 | LIM PENGKHUN MART AND COFFEE | Siemreap | 716**** | USD 30 |
| 424 | 40 - 99 | PI T coffee and Mart | Siemreap | 714**** | USD 30 |
| 425 | 40 - 99 | RIEM PHIROM | Siemreap | 724**** | USD 30 |
| 426 | 40 - 99 | LAY DANY | Siemreap | 714**** | USD 30 |
| 427 | 40 - 99 | KHIEM KHOEUM | Siemreap | 724**** | USD 30 |
| 428 | 40 - 99 | KIM HUN | Siemreap | 724**** | USD 30 |
| 429 | 40 - 99 | HAN SOVANARA | Siemreap | 712**** | USD 30 |
| 430 | 40 - 99 | CHEAVECHHEKA | Siemreap | 721**** | USD 30 |
| 431 | 40 - 99 | PHAV KOSAL | Siemreap | 724**** | USD 30 |
| 432 | 40 - 99 | THOEUN VANDY | Siemreap | 714**** | USD 30 |
| 433 | 40 - 99 | NOEUM PENH | Siemreap | 715**** | USD 30 |
| 434 | 40 - 99 | HUNG RATHA | Siemreap | 714**** | USD 30 |
| 435 | 40 - 99 | LAY SOLY | Siemreap | 714**** | USD 30 |
| 436 | 40 - 99 | MASTER BAKERY | Siemreap | 713**** | USD 30 |
| 437 | 40 - 99 | ENG TYNA | Siemreap | 724**** | USD 30 |
| 438 | 40 - 99 | LY ROTHEARA | Siemreap | 713**** | USD 30 |
| 439 | 40 - 99 | NGIN MALAI | Siemreap | 712**** | USD 30 |
| 440 | 40 - 99 | SOK RAMET | Siemreap | 724**** | USD 30 |
| 441 | 40 - 99 | MOOY CAFE | Svay Rieng | 721**** | USD 30 |
| 442 | 40 - 99 | NGIN SENGHAK | Takeo | 716**** | USD 30 |
| 443 | 40 - 99 | KHON KHATLEAKHENA | Takeo | 714**** | USD 30 |
| 444 | 40 - 99 | KHOEM KUNTHEA | Takeo | 722**** | USD 30 |
| 445 | 40 - 99 | PEN SORPHORN | Takeo | 716**** | USD 30 |
| 446 | 40 - 99 | SOK KAKADA | Takeo | 715**** | USD 30 |
| 447 | 40 - 99 | THUCH SARON | Takeo | 722**** | USD 30 |
សម្រាប់ព័ត៌មានលម្អិត | For more info: 023 963 333 / 081 331 333
*លក្ខខណ្ឌផ្សេងៗត្រូវបានអនុវត្ត | Terms and Conditions Apply