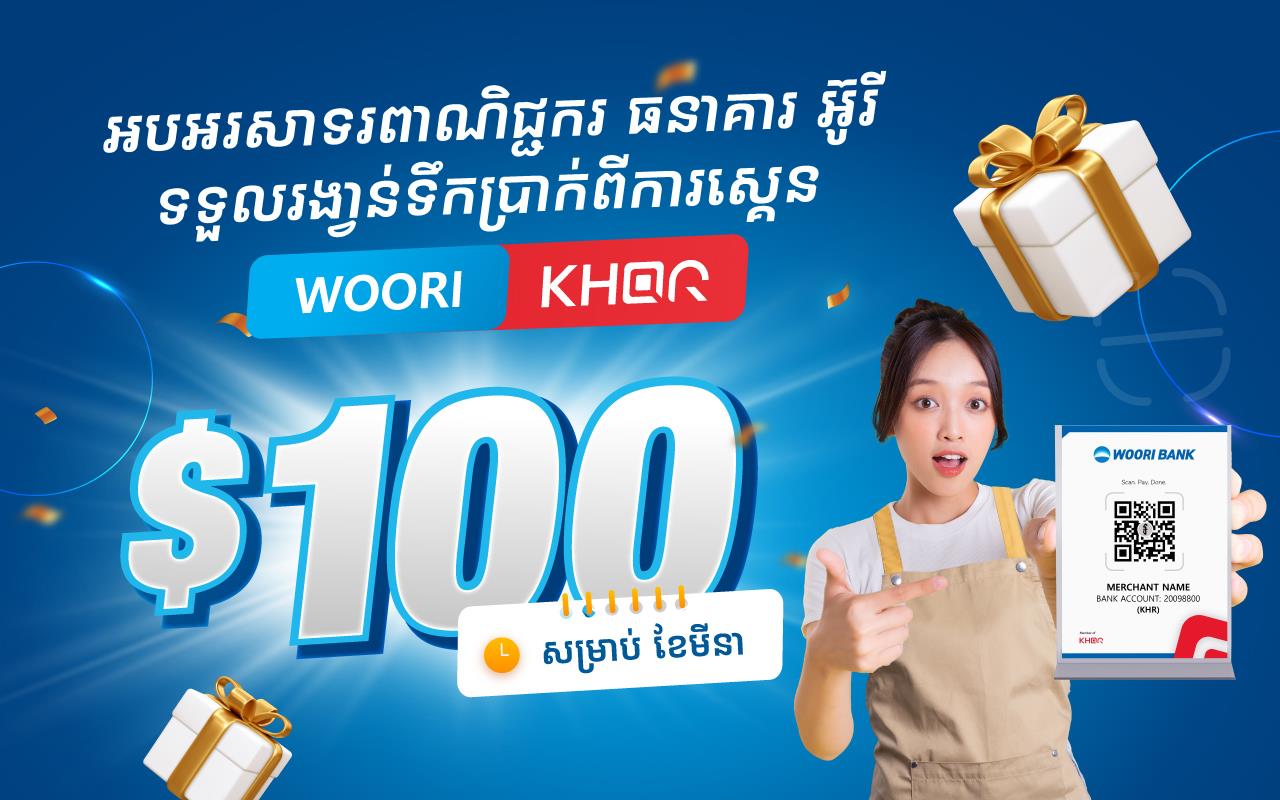 Congratulations to Woori bank Merchant who win cash prize from Woori Bank KHQR promotion for March!
Conditions for receiving cash prizes:
– Please inbox your information to official Facebook Page or visit nearest Woori Bank branch office to get more details.
– Winners of $ 100 will be required to come to your nearest Woori Bank's branch office to take a photo and post it on Woori Bank's official Facebook page.
For those who have not yet won, please continue to recommend customers to pay with Woori Bank KHQR to win prizes from our Promotion​ on next month.
Check the merchant winners in below table:
| No | ចំនួនប្រតិបត្តិការ/ Range of Txnt | ឈ្នោះពាណិជ្ជករ/ MERCHANT NAME | អាសយដ្ឋាន/Address | លេខសម្គាល់ពាណិជ្ជករ/MERCHANT ID | ប្រាក់រង្វាន់/Cash Prizes |
| --- | --- | --- | --- | --- | --- |
| 1 | >200 | AIE KOUNGMENG | Siemreap | 7235*** | 100 USD |
| 2 | >200 | LAUNH THAVY | Phnom Penh | 7149*** | 100 USD |
| 3 | >200 | KRUY KIMSOR | Phnom Penh | 7247*** | 100 USD |
| 4 | >200 | LEANG KIMLANG | Phnom Penh | 7248*** | 100 USD |
| 5 | >200 | CHHUN CHANDARAVY | Siemreap | 7242*** | 100 USD |
| 6 | >200 | SEM SOKON | Siemreap | 7245*** | 100 USD |
| 7 | >200 | CAFE AMAZON | Phnom Penh | 7186*** | 100 USD |
| 8 | >200 | HENG KHENG | Kandal | 7241*** | 100 USD |
| 9 | >200 | YOU BEAUR | Siemreap | 7242*** | 100 USD |
| 10 | >200 | CHEU BORA | Siemreap | 7242*** | 100 USD |
| 11 | >200 | MEAN MITHOKNA | Siemreap | 7246*** | 100 USD |
| 12 | >200 | REOUNG SREYKOUCH | Phnom Penh | 7248*** | 100 USD |
| 13 | >200 | LAO PENGLY SHOP | Battambang | 7189*** | 100 USD |
| 14 | >200 | HOR AN Reastaurant | Kampong Cham | 7128*** | 100 USD |
| 15 | >200 | SEM SOKUN | Siemreap | 7246*** | 100 USD |
| 16 | >200 | CHI TITI | Phnom Penh | 7224*** | 100 USD |
| 17 | >200 | MAO SOKHA | Phnom Penh | 7237*** | 100 USD |
| 18 | >200 | LIM LYCHENG | Siemreap | 7242*** | 100 USD |
| 19 | >200 | DOUNG SOMBO | Phnom Penh | 7242*** | 100 USD |
| 20 | >200 | NGUON SOKPHUONG | Tboung Khmum | 7177*** | 100 USD |
| 21 | >200 | REN RAIN | Siemreap | 7243*** | 100 USD |
| 22 | >200 | NIGHT IN HOTEL | Phnom Penh | 7240*** | 100 USD |
| 23 | >200 | EAM SOSREYNOCH | Siemreap | 7242*** | 100 USD |
| 24 | >200 | HEANG MAKARA | Phnom Penh | 7244*** | 100 USD |
| 25 | >200 | SAM SEYHA | Phnom Penh | 7244*** | 100 USD |
| 26 | 100 - 200 | CHAN ROTANAK | Phnom Penh | 7244*** | 60 USD |
| 27 | 100 - 200 | HAK SIPHONG | Phnom Penh | 7247*** | 60 USD |
| 28 | 100 - 200 | SOK SIN | Siemreap | 7246*** | 60 USD |
| 29 | 100 - 200 | THOEUN ROM | Siemreap | 7242*** | 60 USD |
| 30 | 100 - 200 | SRENG LUYNENG | Phnom Penh | 7241*** | 60 USD |
| 31 | 100 - 200 | EL AMINAS | Siemreap | 7242*** | 60 USD |
| 32 | 100 - 200 | LAY SOLY | Siemreap | 7148*** | 60 USD |
| 33 | 100 - 200 | CHHEN KAKADA | Takeo | 7239*** | 60 USD |
| 34 | 100 - 200 | NAK SINETH | Phnom Penh | 7240*** | 60 USD |
| 35 | 100 - 200 | SAMNANG VANDY | Phnom Penh | 7249*** | 60 USD |
| 36 | 100 - 200 | LEY MABB | Phnom Penh | 7235*** | 60 USD |
| 37 | 100 - 200 | PHAL PALY | Phnom Penh | 7248*** | 60 USD |
| 38 | 100 - 200 | RIN SOCHEAT | Siemreap | 7248*** | 60 USD |
| 39 | 100 - 200 | HORT HONGLY | Kandal | 7250*** | 60 USD |
| 40 | 100 - 200 | MEATOPHUM | Siemreap | 7143*** | 60 USD |
| 41 | 100 - 200 | TONG SOPHAL | Siemreap | 7243*** | 60 USD |
| 42 | 100 - 200 | BE PHORPSAMNANG | Phnom Penh | 7214*** | 60 USD |
| 43 | 100 - 200 | HONG SENG POV | Phnom Penh | 7161*** | 60 USD |
| 44 | 100 - 200 | ABC BBQ | Phnom Penh | 7135*** | 60 USD |
| 45 | 100 - 200 | OUK SOCHEATA | Phnom Penh | 7237*** | 60 USD |
| 46 | 100 - 200 | AM SAVOEUN | Siemreap | 7242*** | 60 USD |
| 47 | 100 - 200 | VAN SEYHAKNISAI | Phnom Penh | 7244*** | 60 USD |
| 48 | 100 - 200 | MOT SAMBATH | Phnom Penh | 7242*** | 60 USD |
| 49 | 100 - 200 | AY PISETH | Phnom Penh | 7245*** | 60 USD |
| 50 | 100 - 200 | AZIS HAFIZ | Phnom Penh | 7244*** | 60 USD |
| 51 | 100 - 200 | SOPHEAP SEREYLIZA | Kandal | 7248*** | 60 USD |
| 52 | 100 - 200 | CHHEM SOKSAN | Siemreap | 7234*** | 60 USD |
| 53 | 100 - 200 | KORY SREYTOUCH | Phnom Penh | 7244*** | 60 USD |
| 54 | 100 - 200 | CHHOENG KIMHONG | Phnom Penh | 7241*** | 60 USD |
| 55 | 100 - 200 | SOT SOCHEAT | Siemreap | 7242*** | 60 USD |
| 56 | 100 - 200 | KORY VIREAK | Phnom Penh | 7245*** | 60 USD |
| 57 | 100 - 200 | SAY RATHANA | Siemreap | 7224*** | 60 USD |
| 58 | 100 - 200 | LY DANET | Phnom Penh | 7244*** | 60 USD |
| 59 | 100 - 200 | SARANGCHAE | Phnom Penh | 7244*** | 60 USD |
| 60 | 100 - 200 | SOK TOLA | Phnom Penh | 7244*** | 60 USD |
| 61 | 100 - 200 | PONLEUR CHAN GUESTHOUSE | Phnom Penh | 7243*** | 60 USD |
| 62 | 100 - 200 | foof and beverage | Kampot | 7135*** | 60 USD |
| 63 | 100 - 200 | SOEUN SINENG | Phnom Penh | 7243*** | 60 USD |
| 64 | 100 - 200 | SUNG BUNSAN | Siemreap | 7242*** | 60 USD |
| 65 | 100 - 200 | EL ISMAIL | Siemreap | 7247*** | 60 USD |
| 66 | 100 - 200 | LIN SOPHEAKTRA | Phnom Penh | 7191*** | 60 USD |
| 67 | 100 - 200 | TAB VANTIN | Kandal | 7158*** | 60 USD |
| 68 | 100 - 200 | BUN SYVOEUN | Phnom Penh | 7245*** | 60 USD |
| 69 | 100 - 200 | BP PREMIUM | Phnom Penh | 7224*** | 60 USD |
| 70 | 100 - 200 | SENG PHALEAK | Phnom Penh | 7160*** | 60 USD |
| 71 | 100 - 200 | HENG VUTHY | Siemreap | 7247*** | 60 USD |
| 72 | 100 - 200 | CHHUN DAVIN | Phnom Penh | 7248*** | 60 USD |
| 73 | 100 - 200 | CHHDAO | Siemreap | 7241*** | 60 USD |
| 74 | 100 - 200 | COFFEE BKK | Phnom Penh | 7234*** | 60 USD |
| 75 | 100 - 200 | THE SHOP | Phnom Penh | 7248*** | 60 USD |
| 76 | 40 - 99 | SENG CHHENGNGUON | Phnom Penh | 7241*** | 30 USD |
| 77 | 40 - 99 | ROEUNG VANARET | Phnom Penh | 7247*** | 30 USD |
| 78 | 40 - 99 | PRING SOPHEAK | Phnom Penh | 7246*** | 30 USD |
| 79 | 40 - 99 | SEM TAL | Siemreap | 7246*** | 30 USD |
| 80 | 40 - 99 | HENG CHAMNAB | Phnom Penh | 7215*** | 30 USD |
| 81 | 40 - 99 | OEM NOUCH | Tboung Khmum | 7126*** | 30 USD |
| 82 | 40 - 99 | YOUNG PUTHEA | Phnom Penh | 7248*** | 30 USD |
| 83 | 40 - 99 | TOEM RATANAK | Phnom Penh | 7243*** | 30 USD |
| 84 | 40 - 99 | Fruit Sales | Phnom Penh | 7241*** | 30 USD |
| 85 | 40 - 99 | PHAN PHEAP | Phnom Penh | 7244*** | 30 USD |
| 86 | 40 - 99 | SAT PHANNY | Phnom Penh | 7237*** | 30 USD |
| 87 | 40 - 99 | PHON VIREAK | Siemreap | 7247*** | 30 USD |
| 88 | 40 - 99 | VEN NADY | Siemreap | 7165*** | 30 USD |
| 89 | 40 - 99 | SOK RANN | Kampong Thom | 7244*** | 30 USD |
| 90 | 40 - 99 | Korean Pot Soup | Banteay Meanchey | 7149*** | 30 USD |
| 91 | 40 - 99 | HENG PHUNG | Kandal | 7243*** | 30 USD |
| 92 | 40 - 99 | Depo Chhun Try | Kampong Thom | 7152*** | 30 USD |
| 93 | 40 - 99 | EL ATIKAS | Siemreap | 7247*** | 30 USD |
| 94 | 40 - 99 | LA PHIARA FLORAL BOUTIQUE | Phnom Penh | 7129*** | 30 USD |
| 95 | 40 - 99 | DEN | Kampong Speu | 7127*** | 30 USD |
| 96 | 40 - 99 | LUN KIMYOUNG | Phnom Penh | 7246*** | 30 USD |
| 97 | 40 - 99 | TOUCH SOPHEAKTRA | Kandal | 7245*** | 30 USD |
| 98 | 40 - 99 | HAM SOLITA | Phnom Penh | 7218*** | 30 USD |
| 99 | 40 - 99 | ANG SOTHEANETH | Phnom Penh | 7248*** | 30 USD |
| 100 | 40 - 99 | LIM MENGHUONG | Phnom Penh | 7139*** | 30 USD |
| 101 | 40 - 99 | SO SINH | Siemreap | 7243*** | 30 USD |
| 102 | 40 - 99 | VANN VANNEAK | Phnom Penh | 7245*** | 30 USD |
| 103 | 40 - 99 | THI SREUY | Phnom Penh | 7224*** | 30 USD |
| 104 | 40 - 99 | MEAN KEO | Phnom Penh | 7243*** | 30 USD |
| 105 | 40 - 99 | RIVERSIDE 07 | Phnom Penh | 7217*** | 30 USD |
| 106 | 40 - 99 | SREY KOSAL | Phnom Penh | 7239*** | 30 USD |
| 107 | 40 - 99 | KOR DOT RITH VITOU | Phnom Penh | 7245*** | 30 USD |
| 108 | 40 - 99 | MEAN SAMANG | Phnom Penh | 7242*** | 30 USD |
| 109 | 40 - 99 | THEA THIB | Phnom Penh | 7215*** | 30 USD |
| 110 | 40 - 99 | SOK DAM | Phnom Penh | 7236*** | 30 USD |
| 111 | 40 - 99 | DUCH LAYHENG | Phnom Penh | 7137*** | 30 USD |
| 112 | 40 - 99 | LY CHHILONG | Phnom Penh | 7241*** | 30 USD |
| 113 | 40 - 99 | AHENG VICHET | Phnom Penh | 7247*** | 30 USD |
| 114 | 40 - 99 | LIM BUNNARITH | Battambang | 7193*** | 30 USD |
| 115 | 40 - 99 | SREYLEAS SALE POKE | Kandal | 7186*** | 30 USD |
| 116 | 40 - 99 | LY VUTHY | Siemreap | 7238*** | 30 USD |
| 117 | 40 - 99 | LY SEYHA | Siemreap | 7248*** | 30 USD |
| 118 | 40 - 99 | SAT PHEARIN | Pursat | 7194*** | 30 USD |
| 119 | 40 - 99 | HUONG SOBONNMY | Phnom Penh | 7209*** | 30 USD |
| 120 | 40 - 99 | CHHAT THAINITA | Siemreap | 7241*** | 30 USD |
| 121 | 40 - 99 | NIN VICHEKA | Phnom Penh | 7244*** | 30 USD |
| 122 | 40 - 99 | THOU VIRAK | Phnom Penh | 7204*** | 30 USD |
| 123 | 40 - 99 | DEI DOSD | Kandal | 7178*** | 30 USD |
| 124 | 40 - 99 | PHOEUN SOPHAN | Phnom Penh | 7244*** | 30 USD |
| 125 | 40 - 99 | CHHOEM MORNOR | Phnom Penh | 7215*** | 30 USD |
| 126 | 40 - 99 | MONG CHANDALY | Phnom Penh | 7248*** | 30 USD |
| 127 | 40 - 99 | RUKHAFE | Kandal | 7126*** | 30 USD |
| 128 | 40 - 99 | SAVY SETH | Phnom Penh | 7245*** | 30 USD |
| 129 | 40 - 99 | SINA KONG | Kandal | 7223*** | 30 USD |
| 130 | 40 - 99 | HAT KIMRIN | Kampong Thom | 7243*** | 30 USD |
| 131 | 40 - 99 | KHON PISITH | Phnom Penh | 7225*** | 30 USD |
| 132 | 40 - 99 | SEM SETH | Siemreap | 7246*** | 30 USD |
| 133 | 40 - 99 | KOEM HEANG | Phnom Penh | 7252*** | 30 USD |
| 134 | 40 - 99 | TOM AMATAK | Phnom Penh | 7156*** | 30 USD |
| 135 | 40 - 99 | Ruos makara | Phnom Penh | 7249*** | 30 USD |
| 136 | 40 - 99 | PRACH SAMNANG | Phnom Penh | 7195*** | 30 USD |
| 137 | 40 - 99 | INCHEON KOREAN BBQ | Phnom Penh | 7154*** | 30 USD |
| 138 | 40 - 99 | VORN VIWATH | Phnom Penh | 7225*** | 30 USD |
| 139 | 40 - 99 | VA CHUNGKHE | Battambang | 7248*** | 30 USD |
| 141 | 40 - 99 | PHATH SAMOUN | Phnom Penh | 7244*** | 30 USD |
| 142 | 40 - 99 | SOK SOPHARA | Phnom Penh | 7247*** | 30 USD |
| 143 | 40 - 99 | VANN SIVAY | Phnom Penh | 7243*** | 30 USD |
| 144 | 40 - 99 | CHOV MUNNY | Phnom Penh | 7244*** | 30 USD |
| 145 | 40 - 99 | NGET SOKGIM | Phnom Penh | 7248*** | 30 USD |
| 146 | 40 - 99 | YIM CHIVON | Phnom Penh | 7206*** | 30 USD |
| 147 | 40 - 99 | NIN MANATH | Phnom Penh | 7224*** | 30 USD |
| 148 | 40 - 99 | Tola Sale Food and Beverage | Kampot | 7185*** | 30 USD |
| 149 | 40 - 99 | PEOV CHANDARAPISEY | Phnom Penh | 7203*** | 30 USD |
| 150 | 40 - 99 | LENG DEVID | Phnom Penh | 7241*** | 30 USD |
| 151 | 40 - 99 | SUON BUNLAY | Phnom Penh | 7248*** | 30 USD |
| 152 | 40 - 99 | PHOK. SARIN | Phnom Penh | 7243*** | 30 USD |
| 153 | 40 - 99 | Band Coffee,Tea & Burger Boi | Phnom Penh | 7220*** | 30 USD |
| 154 | 40 - 99 | PHORM PHAI | Siemreap | 7241*** | 30 USD |
| 155 | 40 - 99 | CHHOUN BUNHONG | Kandal | 7244*** | 30 USD |
| 156 | 10 - 39 | EV KIM ANG | Banteay Meanchey | 7186*** | 10 USD |
| 157 | 10 - 39 | DIN DANY | Kratie | 7221*** | 10 USD |
| 158 | 10 - 39 | SUON CHANMUNY | Takeo | 7245*** | 10 USD |
| 159 | 10 - 39 | CHOR SINAT | Takeo | 7247*** | 10 USD |
| 160 | 10 - 39 | PEN SOPHY | Takeo | 7247*** | 10 USD |
| 161 | 10 - 39 | HIN CHHORN | Phnom Penh | 7247*** | 10 USD |
| 162 | 10 - 39 | YANN SREYLEAK | Phnom Penh | 7248*** | 10 USD |
| 163 | 10 - 39 | SEANG YANY | Phnom Penh | 7248*** | 10 USD |
| 164 | 10 - 39 | CHHOEURN DALIN | Kampong Cham | 7249*** | 10 USD |
| 165 | 10 - 39 | BUN HENG | Phnom Penh | 7249*** | 10 USD |
| 166 | 10 - 39 | CHHE TY | Oddar Meanchey | 7249*** | 10 USD |
| 167 | 10 - 39 | PISEYPHONESHOP | Kandal | 7124*** | 10 USD |
| 168 | 10 - 39 | KONG MARARA | Banteay Meanchey | 7240*** | 10 USD |
| 169 | 10 - 39 | SYNAT SELL GROCERY | Kampong Cham | 7246*** | 10 USD |
| 170 | 10 - 39 | OENG CHHENGPHEA | Kratie | 7247*** | 10 USD |
| 171 | 10 - 39 | SREAN LIMHEANG | Phnom Penh | 7247*** | 10 USD |
| 172 | 10 - 39 | BEN CHANNY | Phnom Penh | 7248*** | 10 USD |
| 173 | 10 - 39 | SEANG SINUON | Kampong Speu | 7248*** | 10 USD |
| 174 | 10 - 39 | KHUT SAROEUN | Phnom Penh | 7248*** | 10 USD |
| 175 | 10 - 39 | LIYHOK | Kampong Thom | 7248*** | 10 USD |
| 176 | 10 - 39 | TAING KONG | Phnom Penh | 7248*** | 10 USD |
| 177 | 10 - 39 | BOAN PHIROM | Poipet | 7249*** | 10 USD |
| 178 | 10 - 39 | OEUN VY | Kandal | 7249*** | 10 USD |
| 179 | 10 - 39 | VONG THEARY | Phnom Penh | 7250*** | 10 USD |
| 180 | 10 - 39 | CHROEUN MENG HONG | Prey Veng | 7252*** | 10 USD |
| 181 | 10 - 39 | SAN CHANTHA | Poipet | 7245*** | 10 USD |
| 182 | 10 - 39 | HACH VIRAK | Battambang | 7249*** | 10 USD |
| 183 | 10 - 39 | VOEURN VIN | Tboung Khmum | 7251*** | 10 USD |
| 184 | 10 - 39 | SELL DRINKS | Kandal | 7251*** | 10 USD |
| 185 | 10 - 39 | KEO SREYNEANG | Kandal | 7129*** | 10 USD |
| 186 | 10 - 39 | CHANTHOU CHANTHEA | Phnom Penh | 7241*** | 10 USD |
| 187 | 10 - 39 | LAI VANTHA | Kandal | 7233*** | 10 USD |
| 188 | 10 - 39 | SOT VANNA | Phnom Penh | 7244*** | 10 USD |
| 189 | 10 - 39 | SOK THORN | Phnom Penh | 7248*** | 10 USD |
| 190 | 10 - 39 | CHHEUN LASRA | Kandal | 7248*** | 10 USD |
| 191 | 10 - 39 | THEA CHANPHEARUM | Phnom Penh | 7250*** | 10 USD |
| 192 | 10 - 39 | SUON SMIT | Phnom Penh | 7251*** | 10 USD |
| 193 | 10 - 39 | KEM NAN | Phnom Penh | 7243*** | 10 USD |
| 194 | 10 - 39 | SOAN CHINDA | Siemreap | 7251*** | 10 USD |
| 195 | 10 - 39 | NHOEK SORPHORN | Phnom Penh | 7249*** | 10 USD |
| 196 | 10 - 39 | SEAN SOHOEUN | Kampong Chhnang | 7186*** | 10 USD |
| 197 | 10 - 39 | coffee and Beverages | Kandal | 7190*** | 10 USD |
| 198 | 10 - 39 | RUOS SAMBAT | Phnom Penh | 7247*** | 10 USD |
| 199 | 10 - 39 | KRY RATTANA | Phnom Penh | 7249*** | 10 USD |
| 200 | 10 - 39 | LENG NIMITH | Battambang | 7249*** | 10 USD |
| 201 | 10 - 39 | SEANG RATANA | Takeo | 7249*** | 10 USD |
| 202 | 10 - 39 | ECH SIV | Phnom Penh | 7247*** | 10 USD |
| 203 | 10 - 39 | momsophy | Phnom Penh | 7249*** | 10 USD |
| 204 | 10 - 39 | NGOUN CHANVIREAK | Phnom Penh | 7249*** | 10 USD |
| 205 | 10 - 39 | NEANG SOEURN | Phnom Penh | 7248*** | 10 USD |
| 206 | 10 - 39 | KIM SOKHENG | Kampong Speu | 7247*** | 10 USD |
| 207 | 10 - 39 | VANN KOLTHIDA | Stung Treng | 7248*** | 10 USD |
| 208 | 10 - 39 | phone repairer | Phnom Penh | 7157*** | 10 USD |
| 209 | 10 - 39 | KUN BUNTHAVY | Kandal | 7248*** | 10 USD |
| 210 | 10 - 39 | BEN SEN | Phnom Penh | 7248*** | 10 USD |
| 211 | 10 - 39 | PROM RATHA | Phnom Penh | 7250*** | 10 USD |
| 212 | 10 - 39 | ORK CHANNY | Phnom Penh | 7251*** | 10 USD |
| 213 | 10 - 39 | YON PANHCHAKRITH | Kratie | 7220*** | 10 USD |
| 214 | 10 - 39 | YI LOUNH | Siemreap | 7248*** | 10 USD |
| 215 | 10 - 39 | NEN SAREN | Phnom Penh | 7248*** | 10 USD |
| 216 | 10 - 39 | CLINIC AND MATERNITY | Kampong Cham | 7248*** | 10 USD |
| 217 | 10 - 39 | TOUN BOPHA | Kandal | 7249*** | 10 USD |
| 218 | 10 - 39 | PHAN PHA | Phnom Penh | 7250*** | 10 USD |
| 219 | 10 - 39 | MENG MAO | Phnom Penh | 7250*** | 10 USD |
| 220 | 10 - 39 | SOEURN CHANNY | Phnom Penh | 7250*** | 10 USD |
| 221 | 10 - 39 | CHEA KIMCHHAI | Banteay Meanchey | 7250*** | 10 USD |
| 222 | 10 - 39 | HONG RATANAK | Phnom Penh | 7252*** | 10 USD |
| 223 | 10 - 39 | SOPHEAK | Kandal | 7248*** | 10 USD |
| 224 | 10 - 39 | TANG SREYTEY | Phnom Penh | 7250*** | 10 USD |
| 225 | 10 - 39 | SROY SOPHEA | Phnom Penh | 7252*** | 10 USD |
| 226 | 10 - 39 | TIN DANY | Kandal | 7244*** | 10 USD |
| 227 | 10 - 39 | VEASNA CLOTHES SHOP | Kampong Cham | 7251*** | 10 USD |
| 228 | 10 - 39 | LOK SINA | Phnom Penh | 7252*** | 10 USD |
| 229 | 10 - 39 | SUOS SREYVOAN | Banteay Meanchey | 7160*** | 10 USD |
| 230 | 10 - 39 | NARATH SELL ELECTRONIC | Kampong Cham | 7245*** | 10 USD |
| 231 | 10 - 39 | Food | Phnom Penh | 7247*** | 10 USD |
| 232 | 10 - 39 | RETH SOPHORN | Poipet | 7248*** | 10 USD |
| 233 | 10 - 39 | CHOEUN SOCHY | Phnom Penh | 7248*** | 10 USD |
| 234 | 10 - 39 | Lyhor Sell Cosmetics | Kampong Cham | 7124*** | 10 USD |
| 235 | 10 - 39 | OR SOPHEAK | Kandal | 7207*** | 10 USD |
| 236 | 10 - 39 | CHIHOUCH HIM | Phnom Penh | 7248*** | 10 USD |
| 237 | 10 - 39 | CHUM SOKHA | Siemreap | 7249*** | 10 USD |
| 238 | 10 - 39 | RITH REACH | Phnom Penh | 7218*** | 10 USD |
| 239 | 10 - 39 | NHEM CHANLAY | Banteay Meanchey | 7248*** | 10 USD |
| 240 | 10 - 39 | OU SAMDY | Kratie | 7141*** | 10 USD |
| 241 | 10 - 39 | PHORN VON THILAY | Phnom Penh | 7248*** | 10 USD |
| 242 | 10 - 39 | YEN LIKA | Phnom Penh | 7248*** | 10 USD |
| 243 | 10 - 39 | BY CHAMROEUN | Siemreap | 7248*** | 10 USD |
| 244 | 10 - 39 | HEM HEAN | Kandal | 7216*** | 10 USD |
| 245 | 10 - 39 | OENG KIMHUK | Phnom Penh | 7248*** | 10 USD |
| 246 | 10 - 39 | YIT KIMLONG | Takeo | 7125*** | 10 USD |
| 247 | 10 - 39 | CHIN SOKHA | Siemreap | 7248*** | 10 USD |
| 248 | 40 - 99 | KHLORK CHANTHOU | Phnom Penh | 7248*** | 10 USD |