I. Contest Briefing
Woori Bank Cambodia invites everyone who have brilliant Idea in Fintech to participate in building an appealing design and proposing useful additional features for the WOORI WON Mobile Banking. Contestants are invited to join the competition to demonstrate their talents and ideas by creating attractive and best user-experience UX/UI design for an innovative and user-friendly Mobile Banking.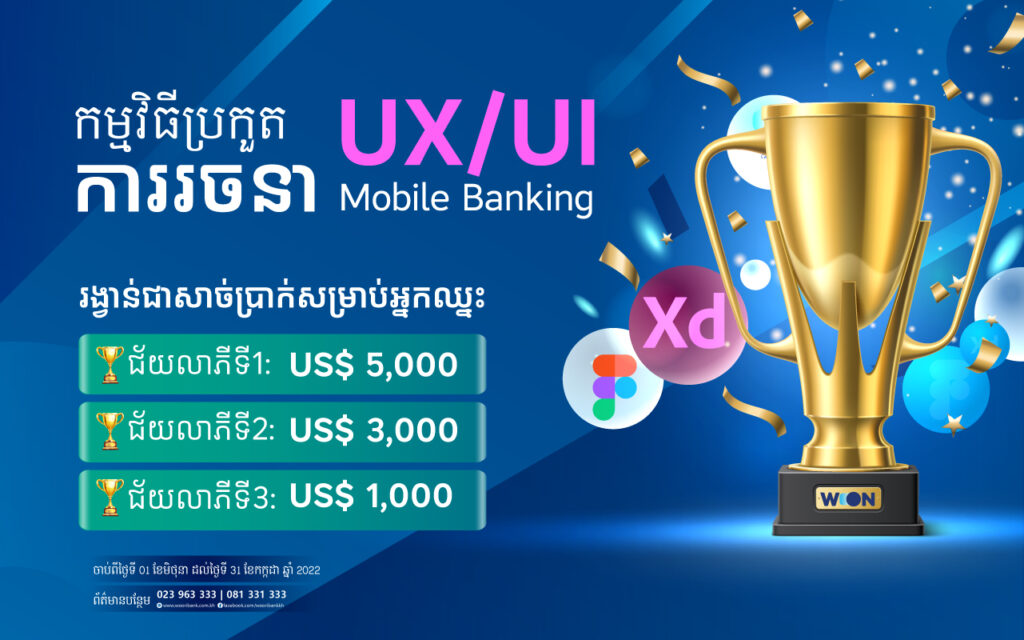 1.1 Who Can Join?
Individual
Teams
Company/creative agency
University or Vocational students
       1.2 Why Join?
Win big cash prizes.
Proof your masterpiece as the best among expert designers.
Endorse your professional design skills for being the winner of the contest which will be participated by hundreds of expert creative designers.
Being recognized as outstanding awardees of the design contest which will be published and promoted on most local medias, the bank's customers and partners.
Bring innovative conceptual to reality.
Winners will receive Awards of Excellence in Creative UI/UX Designs issues by the Bank
Your works will possibly be adapted for the bank's mobile banking application.
Have your work presented in a competitive market of Fintech.
       1.3 Application Timeline
Application is open from 01 June 2022 to 31 July 2022.
II. Design Directions
The contesters shall follow the theme and submit UX/UI design in according to the following Criteria:
     2.1 Brand guide
      Brand Color

User Interface of current WOORI WON (Sample Screens only)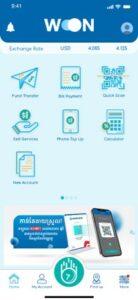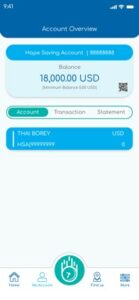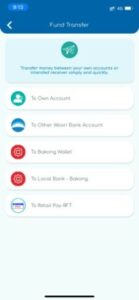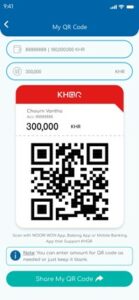 Downloadable Brand Assets
     2.2 Required Design Screens and Features
        Design features  
Typeface
Icon
Login Page
Navigation
Welcome Screen
Home Screen (9 service icons)
Quick Tab
More: setting, security settings, user guide,
Promotions/Announcement/Notifications Pages
     Transactions
Transfer

Transfer to Woori Bank Account
Transfer to other banks through Bakong
Transfer to other banks through RFT

Phone Top-up
Bill Payment (Water, Electric, Waste)
Account overview (Savings Account, Deposit Account, Best Child Account, Planned Savings)
Card display and Virtual Cards creation on Mobile App
International Remittance
Quick Scan and KHQR Page
Scan to pay/transfer through KHQR
Create personal QR Code
And more transactions as suggested
     Design Mode and Special Features
Users Customizable home screens
Unique, clean and clear design
Adaptive design for different devices
Personal financial management
Simple and easy to navigate
Align with Corporate Identity and brand essence of Woori Bank
         Design Format
          The submitted file must in Adobe XD or Figma include prototype  
III. Rewards and Results
          The contest consists of two criteria. The fist is awarded on Attractive Design and Second is awarded on​ the suggestions on new convention function.
          3.1 Rewards
        Three winners will be selected by the committees of Woori Bank (Cambodia), for the following cash prizes.  
First Winner:      US$5,000
Second Winner: US$3,000
Third Winner:    US$1,000
          3.2 Winner Announcement
          Winners will be announced on official Facebook page and Website of Woori Bank Cambodia. The contest will start from 01 June to 31 July 2022. The result will be released no longer than two weeks after contest ends.
IV. Submission
Entries are accepted from 01 June 2022 to 31 July 2022
Applicants to complete the attached forms along with design files and submit to email:wb4uxui@wooribank.com.kh
Applications shall submit their applications through email. If the submitted file size is too big, please state downloadable link in the email. (Please make sure that the link is accessible to the above email only)
Submitted list:
V. Terms and Conditions
Entry is open to anyone 18 years or older.
Professional designers are preferably invited to join.
Participants must currently use WOORI WON Mobile Banking. For new account can be opened at any closest branches of Woori Bank.
If the submitted material does not meet Woori Bank concept, there may be no winners.
The number of participants are not limited in the contest.
The submitted works will NOT be returned to contestants.
All submitted design artworks and concept will be rightfully owned and used by Woori bank (Cambodia) Plc.
The summited work must state correct identity in the application forms.
The designed file must be the original work.
All entries will be reviewed and scored and selected by Woori Bank's committees.
Winners will be requested to present the concept of design and work in detail with our development team
       The contest update/more information will be posted on Woori Bank's social media and website www.facebook.com/wooribankkh | www.wooribank.com.kh